Shari Stauch: Shark Marketing Co.
Shark Marketing Co.
CEO Shari Stauch has been involved in publishing, marketing and PR for 30 years. She is the co-creator of
Pool & Billiard Magazine
, celebrating 30 years as the sport's oldest monthly magazine. In 2004 she retired from the Women's Pro Billiard Tour after a 20 year career as a top player and marketer/co-creator of the tour (inducted into the
WPBA Hall of Fame
in 2007) to pursue development of Shark Marketing Co. and serve a growing community of writers and authors.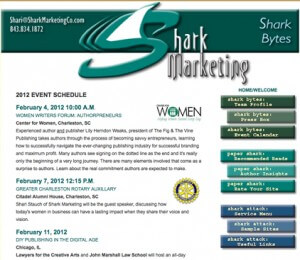 In 2008, Stauch signed on as Co-Director of Programming for
Words & Music: A Literary Feast in New Orleans
, and worked with team member Kendra Haskins to re-launch the organization's website. The elite writers conference brings in authors of note, from Ted Turner to Dennis Lehane to Tim O'Brien, Robert Olen Butler and Justin Torres, along with the nation's best and brightest agents and editors; and promising authors from around the globe.
Stauch continues to work with the Pirate's Alley Faulkner Society as well as with agents, editors, and emerging authors throughout the U.S., using her marketing and PR talents to help authors broaden their audiences, and publishers realize greater sales potential.
Stauch is a certified executive coach, an award-winning essayist and fiction writer, and author of four non-fiction books. She is working on completion of a novel set in her hometown of Chicago, IL.